The CMD of Centum Group, Mr. Apparao Mallavarapu, participated in the Exclusive Round table meeting "Economic Attractiveness of France in the context of Brexit" organized by Business France India last friday. This event also brought together Mr. Jean-Yves Le Drian, the French Minister of Europe and Foreign Affairs who was on official visit to Bengaluru, India, Mr. Ross McInnes, special envoy of the French Government and Mr. Lenain, Ambassador of France to India.
This meeting was the occasion fir Mr. Minister Le Drian to discuss about Economic Attractiveness of France with Indian CEOs and to underscore France's economic resilience during the pandemic & growing attractiveness for Indian companies. With massive recovery plan, high growth forecasts, & Brexit, France is more than ever India's gateway to European Union.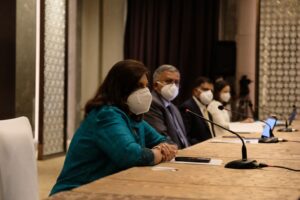 It was an honour and privilege for Mr. Apparao Mallavarapu to be a part of this Exclusive Round table meeting.