The Aerospace industry has several key ongoing technological initiatives to make aircrafts more fuel efficient, environmentally friendly and safer. Much of this involves incorporating more electronics onboard aircraft, making avionics platforms more configurable, and of course factoring in environmental issues and reducing human error to improve safety. At Centum, the different functional teams are highly experienced in the aerospace domain, being well versed in the design standards or having the manufacturing certifications and quality processes required to operate. The major OEMs and Tier 1 aerospace companies are among our key customers and we are deeply ingrained in their global supply chains both in the development and production phases of the product lifecycle.
Flexibility to adapt to varying needs of the customers coupled with the extensive knowledge of the industry gained over the decades has ensured delivery of quality products consistently.
We have gained a strong experience in various famous programs in commercial and military aircraft's so as helicopters, such as:
Commercial aircrafts : A380, A350, A340, A330, A320 Neo, B787, RRJ/SSJ 100, ATR, EMBRAER Legacy 450/500, Gulfstream G650, Learjet LJ85.
Military aircrafts : Rafale, A400M, Mirage 2000, JAGUAR, BEECH200, C130-FR, ATL2.
Helicopter : X4, AW189 (Agusta), Boeing CHINOOK.
We specialized in complete design, development, production and manufacturing of:
Smart actuators for auxiliary functions, actuator controllers
Energy management controllers, electrical AC & DC converters
Embedded computers
Test means, Digital and Hardware In the Loop (HIL) simulators
PRODUCT REFERENCES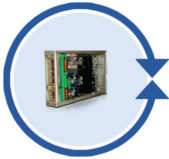 EMBEDDED COMPUTERS – System architecture, hardware design, software development, housing and wiring, verification & validation. We have the know-how of all the Critical technologies to design embedded computers for various Aerospace applications to DAL A critical safety level.
TEST TOOLS – Development of test tools for certification, design qualification, manufacturing test, repair- diagnosis. Our experienced & highly skilled team is competent to develop the most complex test benches with the relevant software.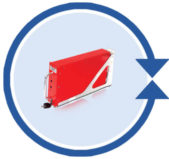 POWER MANAGEMENT – We offer Design, Development & manufacturing of Embedded Power Converters for Aerospace & Defense markets Segment which demand compact, reliable & cost effective solutions without compromising the functionality of energy switching, EMC, monitoring & thermal management.
LRU & DATA RECORDERS – LRU & Data Recorders: Redesign, Value Engineering, manufacturing & Complex Testing. Our engineering & manufacturing teams can build & test very complex LRU's, Rack systems running into 1000's of work instructions and multiple levels of testing.